Walt Disney's (Walt) original vision for Epcot – the Experimental Protype Community of Tomorrow – was a city of the future 'where residents would live and work and test new, innovative products' (Bodden 2009:32). Walt died before he could make his vision a reality. When the park eventually opened in October 1982 it was largely due to the significant investment of private corporations (Clement 2018).
Many of the pavilions enabled the sponsor corporations to market their wares to the public. Clement (2018) notes that these corporations made considerable investments in the park because aligning themselves with the Walt Disney Company (Disney) brand was good marketing. Disney is one of the most recognised brands in the world and the theme parks work as tools for the promotion of the Disney franchise as well as sponsor corporations. With such a powerful messaging platform Disney has the potential to inspire and shape a brighter future. Although the number of sponsors at Epcot appears to have reduced over recent years it provides an opportunity to look to new, more sustainable, business partnerships. Epcot could provide an example of sustainable living for the broader community and inspire future generations, rather than peddle obsolete technology.
Epcot was designed to resemble a World's Fair. Inspiration that grew from Disney's engagement with the 1964 World's Fair in New York. In 2020, when I visited, Epcot felt like a World's Fair circa 1980, rather than a modern World Expo. In general, I think that the Disney theme parks have aged well, the imaginary worlds that you enter are timeless and they are constantly undergoing change to keep them looking fresh and relevant. Epcot is different, its exhibits are based more in the real world, and designed to be at the forefront of technology, but it was showing its age. Walt Disney once stated that Epcot would 'always be in a state of becoming' (Clement 2018; Schoolfield 2019).
During my visit I noted that there were areas under construction, which I later learned are part of Disney's major transformation for the 50th anniversary of Walt Disney World Resort (Schoolfield 2019). In transforming the park there will undoubtedly be strong corporate connections but there is the potential to create a positive legacy that goes beyond the standard consumerism of a day at the park. This is an opportunity to demonstrate the environmental principles espoused in Disney's Corporate Social Responsibility report, to make the attractions and experiences more sustainable, but I have seen no mention of that.
Based on the comments left on the Disney Parks Blog story by Schoolfield (2019) there is a lot of excitement amongst Disney fans about the new attractions, and some discomfort with change. There is concern over the plight of Figment, a character that takes you on the Journey into Imagination. There was no mention of changes to this attraction, but it is located within the new 'World Nature' 'neighbourhood' so it may be replaced by the new Journey of Water inspired by Moana.
The Epcot experience, January 2020
Journey into Imagination was sponsored by Kodak, but that arrangement had run out about a decade before my visit (WDW for Grown Ups 2014; Clement 2018), which might explain the state of the ride. The Kodak business model did not adapt well to the evolution of digital photography and the attraction appears to have suffered the same fate. In January 2020, Journey into Imagination was one of the least impressive attractions at the park and one with the greatest potential for a makeover. In its current state, I did not think there was a lot to inspire imagination and we were the only people in the building at the time.
In the 'World Showcase' neighbourhood of the park, there is not one country from the southern hemisphere represented. Presumably there were no sponsors from the southern hemisphere at the time of construction. It would not be feasible to represent all countries but the lack of any vision below the equator is one notable exception. Of the eleven countries represented many had outdated exhibits, like the film in the China pavilion, which was touted to be given an updated 360o circle-vision film but there is no estimated delivery date at the moment (Thomas 2021)
The country pavilions primarily provide facades for merchandise and food sales. As the theme park with the least number of rides, Epcot is more like a family friendly food and wine fair. In contrast, while merchandise and catering are components of the modern World Expo they have a much stronger focus on collaboration and technology, and the country pavilions are less kitsch. As a side note, if you like kitsch and not kids, the Las Vegas Strip offers a neon version of euro-centric architectural icons but with none of the cultural benefits of either Disney or World Expo.
Inspiration from World Expo
In 2015, I visited Milan during the World Expo. The exhibits at Expo 2015 were amazing, as were the lines to get into them. The UK pavilion, for example, was all about saving the bees, not beer and tea. We spent about 14 hours walking around the site with a six-year old child, who was enthralled enough to keep going all day, and wanted to go back to the UK pavilion a couple of times.
The exhibits were tech-savvy and there was a great interactive section for children to explore ecosystem concepts. We did not discover the children's zone until after dark but that did not stop us. There were bikes to pedal to create water fountains; water to collect and pour into a sprinkler system to water plants; plastic baubles to be caught on fishing rods that contained messages from other children, which could be exchanged with your own message; interactive screens that displayed tree figures that grew arms and waved about based on your movement; as well as other interactive screens and experiences.
I had hopes of getting to Dubai for Expo 2020, but COVID-19 delayed the Expo and destroyed any chance of my attendance. Like the Tokyo 2020 Olympics, Expo 2020 is being held in 2021, from 1 October 2021 to 31 March 2022 (see https://www.expo2020dubai.com/en).
Like Expo 2015, Expo 2020 has a strong theme of sustainability, and living and working together as a global community to achieve great things. There are 191 participating countries in Expo 2020 each with their own pavilion, as well as partner, organisation and special pavilions, each focussed on one of the three core principles – sustainability, mobility, and opportunity (Expo 2020). There is no doubt that international profile and profit are also part of these exhibits, but they also use them to propose solutions to some of the problems facing the global community.
According to Expo 2020, 80 per cent of the built infrastructure will be re-used as a sustainable, human-centric smart city to carry on the Expo's "…vision to be an ecosystem to connect, create and innovate". Epcot has the potential to deliver on this sort of a vision as well.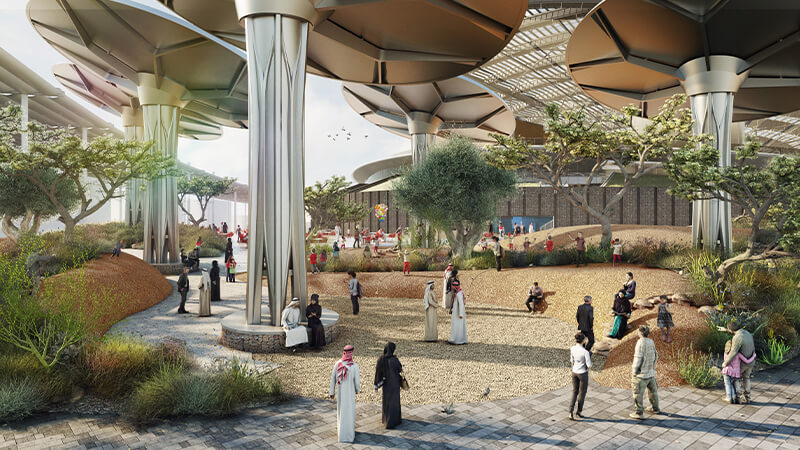 Visions for a greener Epcot
Some of the sustainability concepts and interactive exhibits offered at the Expos could be adapted into Epcot's transformation. The buildings could be designed to meet world's best practice environmental sustainability standards, any plastic based props or furniture could be made from recycled plastic, and the importance of our water resources could be highlighted beyond the new attraction.
Epcot's Journey into Imagination could be updated to create an inspiring space for imagining the world we want to live in. Wright et al. (2020) explain that if given cues on what is possible, and the opportunity to write down their own ideas, people are more likely to undertake pro-environmental action towards creating that vision. This is opposed to the general apathy that is generated by the negative imagery of everything that is wrong with the world. In a podcast with Katie Patrick (https://anchor.fm/katiepatrick), Wright noted the benefits of immersive experiences and integrating these techniques specifically for children to develop 'cognitive alternatives'.
In an attraction like Journey into Imagination guests could, in individual ride carriages and through interactive screens and displays, select the sounds, sights, smells, touch and taste of the optimal neighbourhood. At the end they could get an image of their creation. If the new Journey of Water is replacing Journey into Imagination the same concepts can be applied elsewhere.
From the description of Disney's new Play! pavilion (Schoolfield 2019) it incorporates some of what I imagined for an interactive children's area, but it is described as a 'digital metropolis'. The images I have seen make it look like a typical digital cityscape (Thomas 2021) without any of the sustainability aspects you might want to envision for the future.
Journey into Imagination is in 'World Nature' so would suit the creation of a space to imagine a more sustainable future. This would work alongside the existing The Land and The Seas with Nemo and Friends and the Journey of Water. The Living with the Land and the Turtle Talk with Crush attractions already provide messaging on how we are living with the earth, albeit moderated by its sponsors. Combining it with an updated Journey into Imagination would give guests an opportunity to build on those messages and envision what a sustainable world could look and feel like. The adaptations to encourage more sustainable behaviour could be large or small.
The Coca-Cola Company (Coca-Cola), a Disney sponsor, could use Epcot to promote use of its bottles made from 100% recycled material or some of its other waste reduction approaches. Coca-Cola has been testing refill stations in the United States, including in Florida. The DASANI PureFill allows users to refill their own bottles with free, ultra-filtered water, or they can add flavours and carbonation for a fee (Coca-Cola 2019).
The Journey of Water could feature a magnificent water fountain, with chilled and filtered water for refilling personal water bottles. Such an experience might help counter the public perception promoted by the bottled water industry that buying bottled water is better (Hawkins 2018). There are plenty of real-life examples to draw upon and I have no doubt that the Imagineering team could realise such a vision, in much better terms than I can describe.
With Disney's power to ignite the imagination and tell a great story, along with the skills of the Walt Disney Imagineering team, I think there is the potential to build a space that inspires children and their families to imagine and design the world they want to live in. One with more communal green space, renewable energy, and less waste. The images of the proposed new entrance plaza for Epcot evoke the idea of a greener future for the park. Let's hope it continues to transition to a more innovative, modern Expo experience that flows out to create a more sustainable world.
References
Bodden, V. (2009) The Story of Disney, Saunders Book Company, Canada.
Clément, T. (2018) ""They All Trust Mickey Mouse": Showcasing American Capitalism in Disney Theme Parks", InMedia [Online] 7.1., Online since 20 December 2018, connection on 08 September 2020. DOI : https://doi.org/10.4000/inmedia.1021
Coca-Cola (2019) "BYOB (Bring Your Own Bottle): How Coca-Cola is delivering drinks without packaging", https://www.coca-colacompany.com/news/coca-cola-delivers-drinks-without-packaging, accessed on 3 November 2021.
Expo 2020 (2021) Expo 2020 Dubai UAE, https://www.expo2020dubai.com/en, accessed on 24 October 2021.
Hawkins, G. (2018). "Mobile Drinking: Bottled Water Practices and Ontological Politics", in Social Practices and Dynamic Non-Humans (pp. 109–128), Springer International Publishing, https://doi.org/10.1007/978-3-319-92189-1_6
Schoolfield, J. (2019) "New details revealed for the historic transformation of Epcot underway at Walt Disney World Resort", Disney Parks Blog, 25 August 2019 https://disneyparks.disney.go.com/blog/2019/08/new-details-revealed-for-the-historic-transformation-of-epcot-underway-at-walt-disney-world-resort/
Thomas, H. (2021) "Epcot updates: what's still coming (and what isn't)", WDW Prep School, 26 August 2021, https://wdwprepschool.com/epcot-updates/#World_Celebration_Projects_that_may_not_happen.
WDW for Grown Ups (2014) "Corporate sponsorship in Epcot's future world", World Disney World for Grown Ups, 16 September 2014, https://www.wdwforgrownups.com/articles/corporate-sponsorship-epcots-future-world
Wright, J.D., Schmitt M.T, Mackay C.M.L. and Neufeld S.D. (2020) "Imagining a sustainable world: Measuring cognitive alternatives to the environmental status quo", Journal of Environmental Psychology 72, https://doi.org/10.1016/j.jenvp.2020.101523